A Conversation with Two Student Composers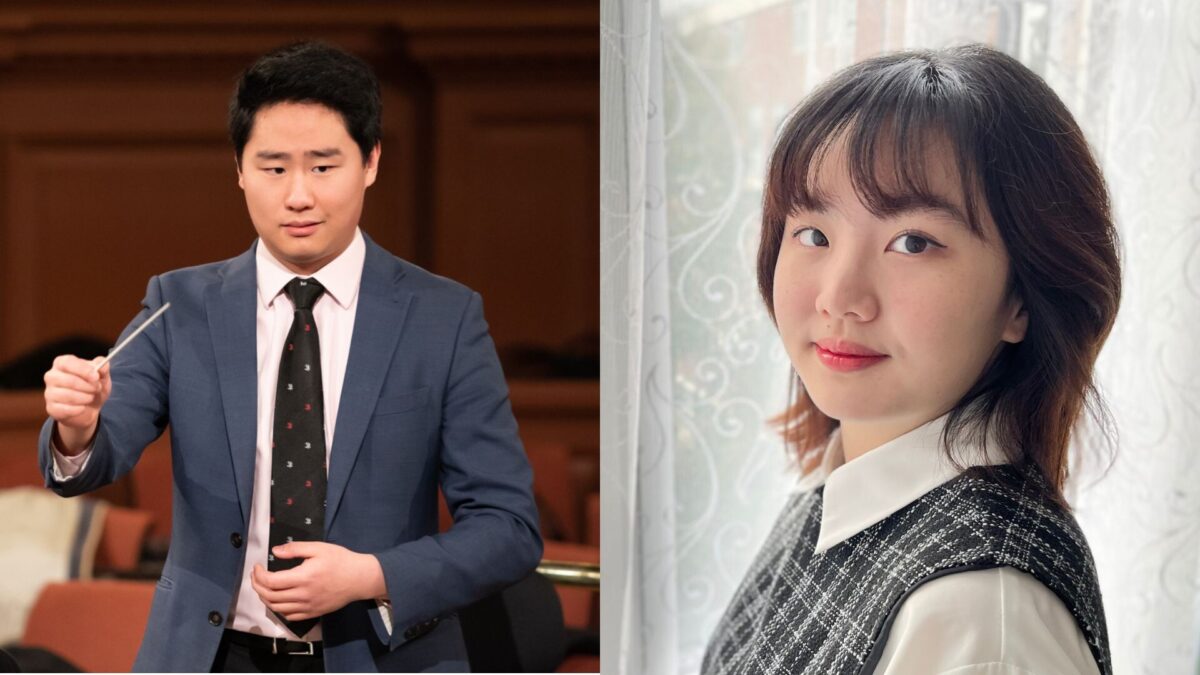 11 months ago | Oxford Philharmonic Orchestra | Composers, Interview, Education
As part of our University Residency, we run an annual Composers' Workshop in conjunction with the Oxford University Faculty of Music.
Between 10 and 12 student composers are given the opportunity to have their works played by the Oxford Philharmonic Orchestra under Professor John Traill and receive feedback which helps them improve their orchestration and alter their notation, in order to bring their musical ideas to fruition. Each year, up to two pieces are selected by Professors at the Faculty of Music to be performed in a future OPO season.
Two pieces were chosen from our 2022 Composers' Workshop to be premiered in our 2022/23 season – Poppy Song by Kevin Zheng and The Withdrawal by Jieun Lee, on 9 November and 17 November respectively. We caught up with Kevin and Jieun ahead of their premieres about their interest in composition and their creative process.
---
When did you become interested in composition?
Kevin: I remember I was having to tackle the Grade 5 Theory composition task for the first time when I was in Year 5, and I always came up with the most inappropriately elaborate, avant-garde tunes. That was my introduction to this fun game of trying to balance using the rules and dramatically breaking them! Later on, my lunch break at junior conservatoire was too long, so I stumbled into joining composition seminars where I really grew from hearing what the older composition students were doing.
Jieun: My first ever attempt at writing a piece was when I was 10, and the piece was titled 'Homework'. I went to a music school when I was 14, with piano as my principal study, and I started composition lessons on the side. A year after that, I decided to pursue composition as my principal study because I enjoyed it so much! That was six years ago, and it is still my principal pursuit.
What was the process of writing your composition for this workshop like?
Kevin: My best childhood memories and friends are from summer orchestra courses, so this was quite an emotional experience, being able to mould that world, drawing on my experiences of those colours. My compositions are often a collection of five-second improvisations I record on my phone whenever they occur to me, and when one idea speaks to me, it's the title and premise that comes second. I did a major school art project on poppies – I actually started thinking about this many years ago – so Poppy Song again is a particularly personal work.
Jieun: First of all, I had signed up for a workshop without a piece in my hand. I worked quite quickly, starting off with the opening idea, and I think The Withdrawal just grew organically from there. I took references from many composers' orchestral works, and while I think there are no direct quotes, upon hearing the piece you may smell fragments of Mussorgsky, Stravinsky, John Adams, etc… The title actually came at the very last part, where I had to make a decision quite quickly.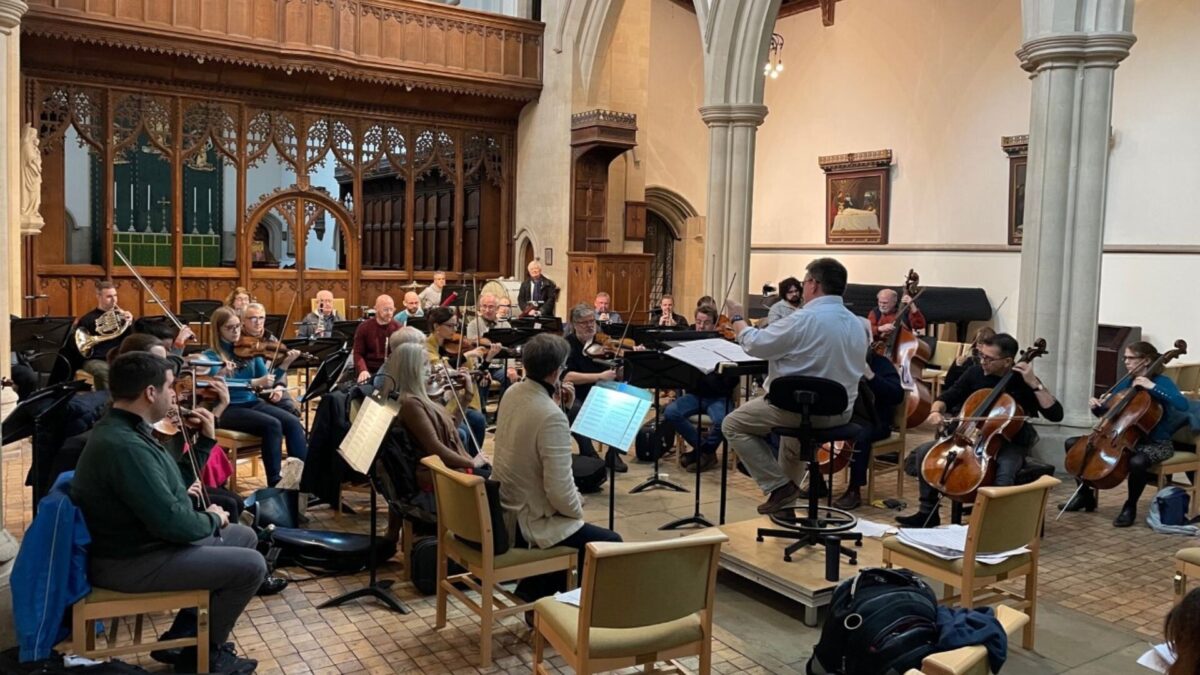 When composing in general, is there anywhere specific you find inspiration from?
Kevin: Lately, I've been maintaining a scrapheap of quirky, sparky concepts that I could use to corral some of my musical snippets, which I might add to while I'm walking to a lecture or scrolling through Instagram – I like to keep things close to the real world in and around my music, especially since this contemporary classical music is always at risk of being an inaccessible listen. I'm focusing on sampling at the moment: I'm looking for a breakthrough with sounds that are even more 'real', seeing how they interact with 'normal' notated music, digital processing and rigid mathematical ideas.
Jieun: I tend to find inspiration inside myself, like my musical interests and the melodies I come up with. I like it that way because I always want to fully understand the music I write before I complete it. Sometimes a piece of mine will look like layers of ideas I've accumulated over the course of time where I was working on it. I once did a project where I wrote a piece in response to a painting, and I took inspiration from the atmosphere I imagined through the painting rather than the actual physical representation of the painting (it was quite a darkly coloured painting of a night market and I wrote a waltz-like piece in C major.)
Do you have any other projects coming up?
Kevin: I'm looking forward to working with a filmmaker, Jinsuh Moon, on an audiovisual project – we met through an Oxford Faculty-led collaboration scheme. The tendency I have to go for strong gestures and colourful harmonies should make this multisensory work very interesting. I'm also doing a bit of sound design for a Shakespeare spoof my theatre friends are putting on, so my head is very much out of the dots on the page this year.
Jieun: I am currently working on a piece that is going to be workshopped by the Castalian String Quartet in February. Aside from that, I'm open to any suggestions or requests!
---
Poppy Song by Kevin Zheng and The Withdrawal by Jieun Lee will be performed on 9 November and 17 November respectively. You can find out more about each of these concerts and buy tickets by clicking on the pictures below.
Scheherazade


9 November



Kevin Zheng Poppy Song*
Prokofiev Violin Concerto No. 1
Rimsky-Korsakov Scheherazade

Maxim Vengerov violin
Cayenna Ponchione-Bailey conductor*
Marios Papadopoulos conductor






.

University Residency 20th Anniversary


17 November



Brahms Academic Festival Overture*
Mendelssohn Violin Concerto
Jieun Lee The Withdrawal*
Bruckner Te Deum

Jennifer Pike violin
Lauren Fagan soprano
Claudia Huckle contralto
David Junghoon Kim tenor
Simon Shibambu bass
The Choir of Merton College
The Choir of The Queen's College
Cayenna Ponchione-Bailey conductor*
Marios Papadopoulos conductor