RPS / ABO Salomon Prize awarded to Oxford Philharmonic violinist Jamie Hutchinson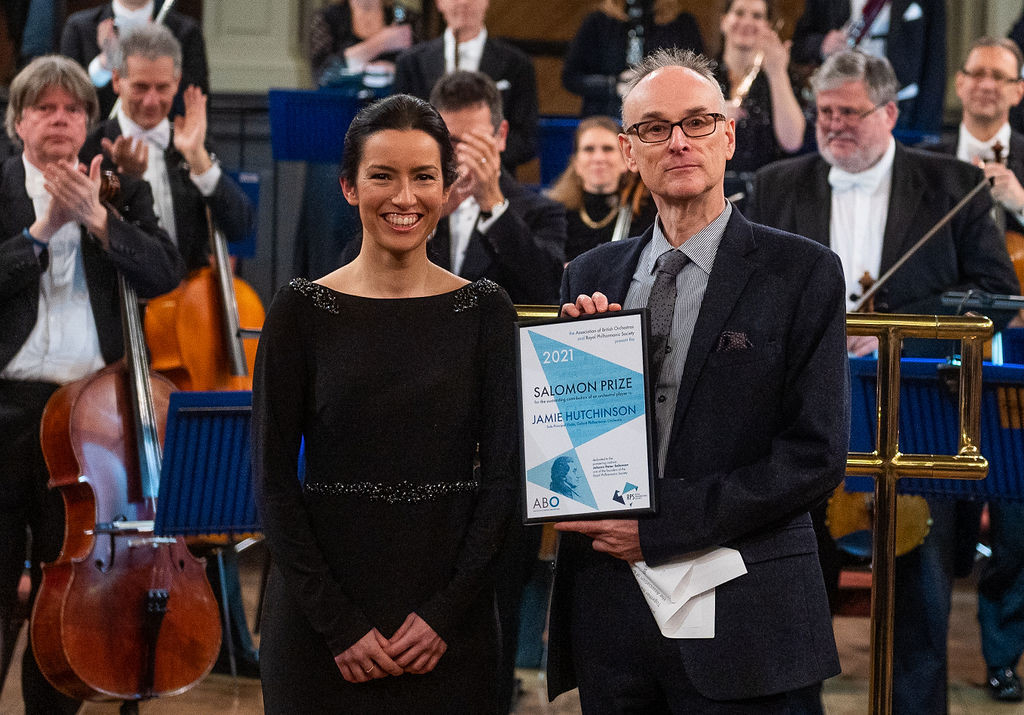 2 years ago | admin | Composers, Concert, Interview, Orchestra
Launched in 2012, the Salomon Prize is a joint annual award from the Royal Philharmonic Society and the Association of British Orchestras that recognises the extraordinary contributions of orchestral musicians.
Our concert on Friday 10 December was like no other. With a guest appearance from star soloist Anne-Sophie Mutter for Beethoven's Violin Concerto and a programme change at the eleventh hour due to a chorister falling ill, you'd think that would be enough excitement for one evening.
Well, think again!
As the audience settled in their seats, and a hush fell over the Sheldonian Theatre in anticipation of the concert ahead, a lone figure made his way onto the stage. Mark Pemberton, Director of the Association of British Orchestras (ABO), was here to present the Salomon Prize to Oxford Philharmonic Orchestra Sub-Principal violinist, Jamie Hutchinson.
A joint award from the Royal Philharmonic Society (RPS) and the ABO, the Salomon Prize was launched in 2012 and is awarded annually to an outstanding orchestral musician in the UK who has excelled musically as well as making 'a remarkable contribution to the life of their orchestra, its audience and community', celebrating 'the unsung heroes' the make UK orchestras great.
This year, the awarding panel were particularly keen to highlight the extraordinary work done by UK orchestral musicians in light of the pandemic.
We were extremely pleased that our violinist Jamie Hutchinson was one of two joint winners of this year's award alongside Beth Higham-Edwards of the London Chamber Orchestra, and Amy Thomas who received a commendation for her work with the CBSO.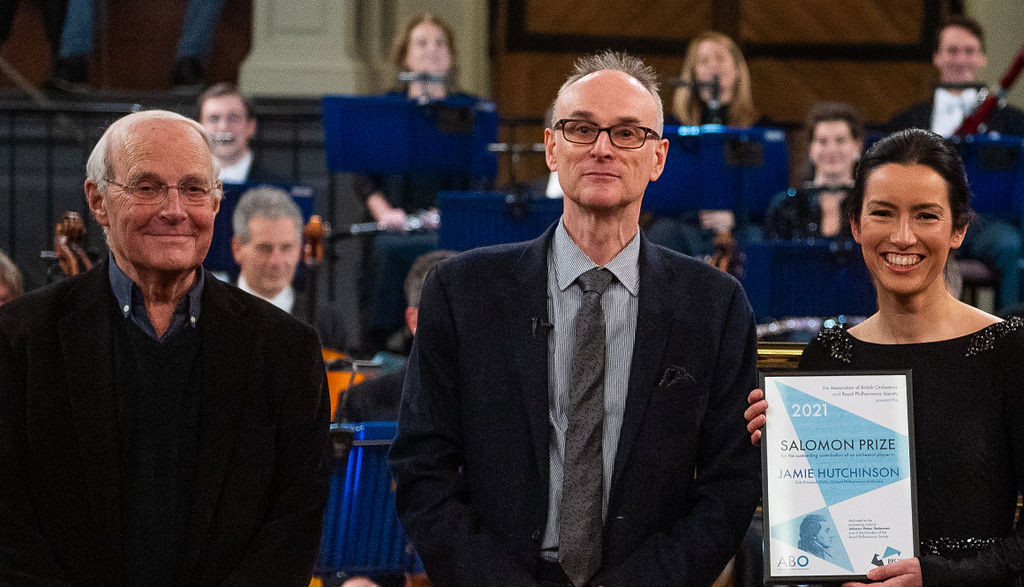 Jamie has long been a valued member of the Oxford Philharmonic, but in the past year has not ceased to impress us with the energy, vitality, and exuberance she has brought to our education work. During the very first lockdown Jamie spearheaded the 12-episode OPO at Home series on YouTube, which saw various members of the Orchestra performing from their own homes to introduce young children to music-making.
Following on from the success of that series and the easing of social gathering restrictions, Jamie also devised and presented four further family-friendly music videos. Each video was themed, with Jamie and her endless charisma introducing children to all the spooky sounds that can be made on a string instrument, dance music from around the world, Christmas Carols, and a Brass at the Movies special.
Working with Oxford Philharmonic staff Jamie also began conducting school workshops via video, streaming live music activities with other members of the Orchestra directly into schools in OPO Music Club, reaching almost 900 children each week. She also played a key role in this year's project with the Dragon School in Oxford, Stringmasters, which saw Jamie, percussionist Julian Poole and bassist Dave Ayre visiting 9 schools and over 200 children to produce a circus-themed video.
In the months since, Jamie has co-presented our family friendly video series with Alasdair Malloy. The first series, Mission Earth, took primary age children on an interstellar adventure to explore the Earth's colours that are visible from outer space. Pirates Ahoy! followed this November, in which Jamie and the fearsome Pirate Captain Awesome Al sailed the seven seas searching for treasure with the Orchestra as their crew.
We have long been singing Jamie's praises and are so grateful for the important and outstanding work that she does. We couldn't be more thrilled that her work has now also been recognised with this prize.
The awarding panel, comprising of leading figures working in classical music, said:
Through the challenges of the past year, violinist Jamie Hutchinson has brought boundless imagination and energy to her role, not only creating work for her fellow players when live concerts ground to a halt, but keeping the audience's spirits bright when it was needed most. Straight out the gate, she kickstarted a new series of educational videos – OP at Home – for primary schoolchildren, broadly welcomed and used by teachers and parents. She wholly devoted herself to adapting the orchestra's invaluable interactive song-writing sessions with the Mulberry Bush, a residential school for vulnerable children, ensuring they could still meaningfully engage during the most difficult months. As a third lockdown began and schools faced closure once more, she set up the OP Music Club to inspire children, reaching 150 children weekly, helping relieve the pressure that teachers and parents were facing. She has quite simply been an inspiration to fellow players and audiences.
Oxford Philharmonic Music Director Marios Papadopoulos said:
For many years Jamie has been at the heart of the outreach work of the Oxford Philharmonic. Her drive and creativity have been a huge asset to our programme. Through dozens of workshops with schools around Oxford she has led teams of musicians that have inspired thousands of children, mostly devising the projects herself.

During the pandemic, Jamie refused to be disheartened by the fact that this work was no longer possible in person. She turned her energy and imagination to launching programmes to entertain and educate schoolchildren, as well as provide some much- needed work for our musicians. Firstly with the OPO at Home series and then with OPO Music Club, Jamie, in collaboration with our fantastic outreach team, has helped the Orchestra reach more children than ever before. Such work so often goes unnoticed which is why it is particularly pleasing that Jamie is getting the recognition she deserves with this award.