11 women composers: from the 9th century to present day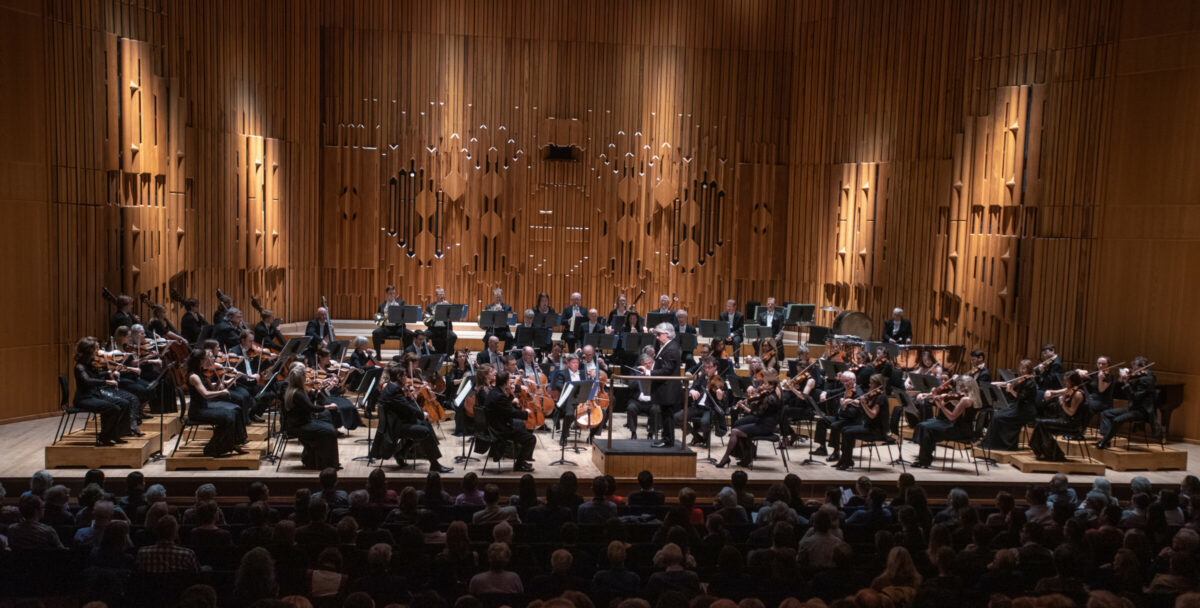 2 years ago | Oxford Philharmonic Orchestra | Composers, Concert, Interview, Orchestra
As the world celebrates International Women's Day on 8 March 2021, we're taking a look at the works of women composers throughout the ages, from one of the earliest known female musicians in history through to some of today's most exciting up-and-coming composers.
Kassia (c. 805-810 AD)
Kassia (also known as Cassia or Kassiani) was a Byzantine abbess, poet and composer who lived from approximately 810-865 AD, and is one of the first medieval composers whose scores are both still in existence and are interpretable by modern scholars. Born to a wealthy family in Constantinople sometime between 805 and 810, Kassia is said to have been exceptionally beautiful and intelligent. Chroniclers of the time claim that she was a participant in the "bride show" for the young emperor Theophilos, but he chose another wife after a particularly sharp-tongued rebuttal of his advances from Kassia.
The next recorded mention of Kassia occurs in 843 when she founded a convent in the west of Constantinople and became its first abbess. She wrote many hymns which are still used in the Byzantine liturgy today, and at least 23 genuine hymns are ascribed to her. The most famous of her compositions is the eponymous Hymn of Kassia, which is chanted each year at matins on Holy Wednesday at the end of the aposticha.
She is commemorated as Saint Kassiani, with her feast day celebrated by the Orthodox Church on September 7
Louise Farrenc (1804-1875)
Louise Farrenc was a French composer, virtuoso pianist and teacher who gained a considerable reputation during her own lifetime. She began studying the piano at a young age, and at the age of 15 began studying composition with Anton Reicha, the composition teacher at the Paris Conservatoire. She married flutist Aristide Farrenc in 1821 and ceased her studies in order to perform throughout France alongside her husband. He grew tired of concert life and opened a publishing house in Paris with her help.
Here, she returned to her studies with Reicha and embarked on her own concert career. In 1842 she was appointed to the permanent position of Professor of Piano at the Paris Conservatoire. She was an excellent teacher and many of her students graduated with the highest honours, going on to enjoy illustrious careers as professional musicians.
Despite this, Farrenc was paid less than her male colleagues for almost a decade. After the triumphant premiere of her Nonet in E♭, she demanded (and received) equal pay.
Watch the Oxford Philharmonic rehearsing Louise Farrenc's Symphony No. 3
Dame Ethel Smyth (1858-1944)
Dame Ethel Smyth was an English composer and a prominent member of the women's suffrage movement. As a young woman she studied at the Leipzig Conservatoire where she met Dvořák, Grieg and Tchaikovsky. She was unimpressed with the standard of teaching here, and continued private studies with Heinrich von Herzogenberg – through whom she also met Clara Schumann and Brahms.
In 1910 she joined the Women's Social and Political Union, going on a musical hiatus to dedicate herself to the cause – the exception being her piece, The March of the Women, which became the anthem of the suffragette movement. In March 1912 she was one of over 100 feminists arrested for breaking windows and served 2 months in Holloway Prison. On paying her a visit during the sentence, her friend Thomas Beecham reportedly found her directing a performance of The March from her cell window, using a toothbrush to conduct as fellow suffragettes sang along. She later conducted the Metropolitan Police Band at the unveiling of the statue to Emmeline Pankhurst in London, 1930.
Smyth fell passionately in love with women, including Emmeline Pankhurst and Virginia Woolf, writing to a male love "I wonder why it is so much easier for me to love my own sex more passionately than yours". During her lifetime, Smyth was alternately praised and criticised for writing music that was considered too masculine for a "lady composer".
She was awarded honorary doctorates in music from the Universities of Oxford and Durham, and two concerts of her work were broadcast by the BBC in May 1928 during the first decade of the broadcaster's existence.
Lili (1893-1918) and Nadia (1887-1979) Boulanger
Lili and Nadia Boulanger were sisters living in France in the late 19th and early 20th centuries, both leading successful careers in music.
Nadia was Lili's elder by six years, and was enrolled at the Paris Conservatoire. When Lili was two years old, family friend Gabriel Fauré discovered that she had perfect pitch. As musicians themselves, Lili's parents recognised her potential and encouraged her to begin studying alongside Nadia at the Conservatoire.
Aged 19, Lili won the composition prize in the prestigious Prix de Rome in 1913 for her cantata Faust et Hélène, making her the first woman to win the prize. From this success, Lili gained a contract with the publisher Ricordi and continued to compose. Many of her works revolve around themes of grief and loss following the death of the sisters' father in 1900.
Lili suffered from bronchial pneumonia from the age of two, weaking her immune system and leaving her vulnerable to the intestinal tuberculosis that eventually killed her in 1918, aged just 24.
Nadia, meanwhile, graduated early from the Paris Conservatoire but believed she had no particular talent as a composer and turned to teaching instead. Many of her students went on to become leading composers, performers and conductors, including Daniel Barenboim, Lennox Berkeley, Aaron Copland, John Eliot Gardiner, Philip Glass, Quincy Jones, Darius Milhaud and Astor Piazzolla.
Nadia was also the first woman to conduct many major orchestras in America and Europe, including the BBC Symphony, Boston Symphony, the Hallé, New York Philharmonic and Philadelphia orchestras. She conducted several world premieres, including works by Stravinsky and her student, Aaron Copland. Nadia died in 1979 in Paris and is buried at the Montmartre Cemetery with her sister Lili and their parents.
Florence Price (1887-1953)
Florence Price (1887-1953) was an American composer, pianist, organist and music teacher. Born in Little Rock, Arkansas, she showed early promise as a musician, and her music teacher mother prioritised Florence's musical education. She gave her first piano performance aged 4 and was a published composer by the age of 11.
Price pursued a teaching career and became head of the Music Department at what is now Clark Atlanta University – a historically black college. She stayed for two years before returning to Little Rock to marry lawyer Thomas J. Price. After a string of racial attacks in the area, Price and her family moved north to settle in Chicago, Illinois. Here, she continued her education in music and published four pieces for piano in 1928.
Price began playing the organ to accompany silent films in cinemas, and composed jingles for radio advertisements under a pseudonym. In 1932, Price entered the 1932 Wanamaker Foundation Awards, winning $500 for her first place Symphony in E minor, and third place Piano Sonata. The Chicago Symphony Orchestra premiered Price's symphony the following year, making her the first African American woman to have a piece performed by a major orchestra.
Read more about Florence Price on our blog
Alexandra Sakali (1917-2012)
Alexandra Sakali (1917-2012) was born on the Greek island of Corfu to a Greek industrialist and Despina Pappas, the first woman to qualify as a doctor in Greece. Aged five, Alexandra showed great musical prowess and was enrolled in the Old Philharmonic Academy and Orchestra of Corfu, where she studied under prominent Greek musicians. After two hugely successful performances of works by Mozart and Carl Maria von Weber in her late childhood, Sakali became known as a piano prodigy in Greece.
While on holiday with her parents in the summer of 1935, Sakali met Arnold Schoenberg, who explained his twelve-tone method of composition to the young composer. Many years later, Schoenberg's influence is clear in Sakali's work.
Despite her education being interrupted by the Second World War and Greece's ensuing Civil War, Sakali finally graduated from the Athens Conservatory of Music in 1949. She continued her education after graduation, studying composition and the twelve-tone system of writing, first introduced to her by Schoenberg himself. Her creativity as a composer surged throughout the 1960s as an outlet for her grief after the death of her son.
OPO Music Director Marios Papadopoulos has long been a champion of Sakali's music, premiering many of her compositions including Liturgy beneath the Acropolis (1997) and Quasi una Fantasia (1999). Papadopoulos also recorded an album of Sakali's works alongside the Oxford Philharmonic, Echoris, and soprano Katerina Mina.
Errollyn Wallen (b. 1958)
Alexandra Sakali (1917-2012) was born on the Greek island of Corfu to a Greek industrialist and Despina Pappas, the first woman
Errollyn Wallen is a British composer and singer-songwriter, born in Belize. Aged two, she moved to London and was brough up by an aunt and uncle. She now spends her time between London and the Scottish Highlands, where she keeps a lighthouse which looks out over the Orkney Islands.
Wallen trained as a dancer before studying composition at various colleges in London. She was also inaugurated as an Honorary Fellow of Mansfield College, Oxford in 2015. Wallen's career so far is full of firsts, from being the first black female composer to have her work performed at the BBC Proms in 1998, to sending her work into orbit in 2006, when Canadian astronaut Steve MacLean took three of her CDs into space with him on the STS-115 Space Shuttle mission, completing 186 orbits around the Earth.
Wallen's work has been performed at the Museum of Modern Art in New York and the 2012 London Paralympics Opening Ceremony, as well as being used as the theme tune for the BBC drama One Night.
In 2020, Wallen was awarded a CBE for her services to music, and in June of last year collaborated with electronic music group Clean Bandit to accompany 13-year-old Keedron Bryant in response to the murder of George Floyd, joined also by Sheku and Braimah Kanneh-Mason, and Nicola and Stephanie Benedetti.
Read more about Errollyn Wallen on our blog
Libby Croad
Libby Croad is a British composer, arranger and violinist. She studied violin and composition at the Royal Academy of Music and has had her work featured in film and television productions. Alongside her sister, Anna, she is also a founding director of Blue Topaz Strings.
Croad's setting of Silent Night was premiered by The New London Singers in 2016 and has since been performed by the Choir of Girton College, Cambredge, with their rendition being broadcast on BBC Radio 4 in December 2019. The BBC Singers also performed the work on BBC Radio 3 in December 2020.
Suite for String Orchestra is a highlight of Croad's oeuvre, with the first movement 'Strati' being broadcast on BBC Radio 3 for International Women's Day in 2018. The first full performance of the work was given by the Oxford Philharmonic Orchestra, recorded in October 2020 and released online in January 2021.
Grace-Evangeline Mason (b. 1994)
Libby Croad is a British composer, arranger and violinist. She studied violin and composition at the Royal Academy of Music and
Grace-Evangeline Mason is a British composer of contemporary classical music. Mason studied composition at the Royal Northern College of Music in Manchester, and went on to continue her studies at Somerville College, Oxford. She is currently pursuing her doctorate at the Royal Academy of Music in London.
Whilst studying for her undergraduate degree in 2017, Mason was co-commissioned by BBC Radio 4's Front Row programme and The BBC Proms to compose her work, River, written to celebrate the 300th anniversary of Handel's Water Music. The piece was premiered live on BBC Radio 4 from a boat on the River Thames by London Early Opera. Later that year, the BBC Philharmonic performed her orchestral work Kintsukuroi: (Golden Repair) in a special joint concert with Psappha New Music Ensemble.
Whilst studying at Oxford, Mason took part in the Oxford Philharmonic Orchestra's 2019 Composers' Workshop. Her work, To Breathe Now, was one of two pieces chosen by the Orchestra to be programmed in an OPO concert. The performance was sadly postponed due to the coronavirus pandemic and subsequent lockdowns, but is due to be rescheduled once restrictions are lifted.
Read our interview with Grace-Evangeline Mason here
Carol J Jones
Carol J Jones is a composer of contemporary classical music, and uses scientific methods to deconstruct the sounds of nature, turning them into pieces of music.
Jones has written works for the BBC National Orchestra of Wales, the Commonwealth Festival Orchestra and Choir, and Worcester College Chapel Choir. She was also one of six composers selected by Judith Weir to take part in the Dartington International Summer School.
Alongside Grace Evangeline Mason, Jones took part in the Oxford Philharmonic Orchestra's Composer's Workshop in 2019, with her work the light thief being selected for performance during the Orchestra's upcoming season. As with Mason's piece, the performance of Jones's work has been postponed until after lockdown restrictions are lifted.