The Oxford Philharmonic has been bringing workshops to local hospitals for almost as long as we've been around.
We run regular workshops in hospitals and care facilities across the county throughout the year, bringing music workshops and activities to patients with a range of conditions.
Therapeutically beneficial workshops
---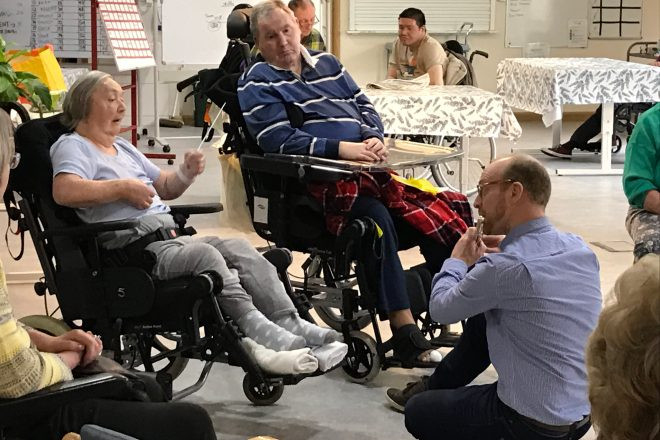 About our work in hospitals
We run regular workshops throughout the year at various hospital and care facilities in Oxford and its surrounding areas. Our musicians have worked with patients with a variety of health-related conditions, from those recovering from and living with disabling conditions to those in rehabilitation and palliative care. In recent years, we have enjoyed visiting patients at the Centre for Enablement at the Nuffield Orthopaedic Centre, the Renal Wards at the Churchill Hospital, the Fulbrook Centre, and Oxford City Community Hospital.
Nursing and care staff have identified significant therapeutic benefits stemming from our work, and our workshops receive frequent praise from participants, who often see them as the most valuable of the visiting occupational therapy activities available.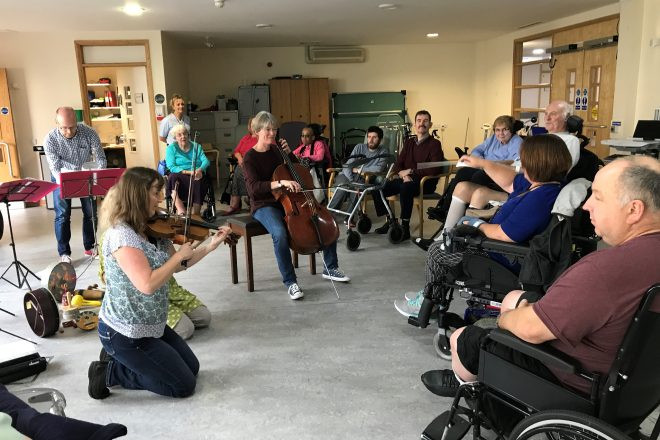 During 2020 and 2021, as we were unable to visit facilities in person, we produced a series of online videos. Our 'Virtual Jukebox' grants patients access to a specially made playlist featuring a delectable feast of musical moments, from all-time favourites and crowd-pleasers to lesser-known gems, all introduced by our friendly team of musicians. The full playlist is available to watch here. We look forward to ​resuming our in-person visits when circumstances allow.
You can help us support and comfort hospital patients and care staff by donating here. Any donation, no matter how small or large, means that we can bring the healing power of live music to more people.
Send us an email to ask about our hospital workshops at your facility.